Cookies
Help with cookies.
What is a cookie?
---
Marshall Brain's HowStuffWorks website definition of a cookie:
A cookie is a piece of text that a web server can store on a user's hard disk. Cookies allow a Web site to store information on a user's machine and later retrieve it. The pieces of information are stored as name-value pairs.

Read more about cookies at HowStuffWorks.
In our case, we use cookies to store information to identify our users so we can record their progress through our online courses, such as when a user takes a test. Therefore, you cannot participate in our online training courses unless you have cookies enabled.


Cookie Test
---
Here's a quick little cookie test to see if your computer is able to accept cookies.


Our Most Common Cookie "Fix"
---
If you're able to login but keep getting bumped to the login screen when you click on a link, you might check the date on your computer. If the date is incorrect on your computer, then it thinks our cookie has expired and asks you to login again. This is the "fix" for 80% of our users who experience cookie problems.
The current time on our server is: June 25, 2017 18:34:13 (6:34:13 PM) Pacific Time


How do I set my computer to accept cookies?
---
If you would like to setup Internet Explorer to accept cookies, just follow these simple steps (these screenshots are taken in IE 5.5 running on Windows 98):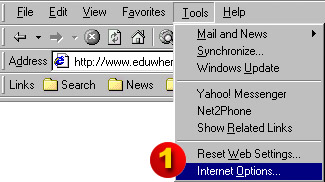 Select Internet options from the tools menu (See [1] above). (Tools > Internet Options)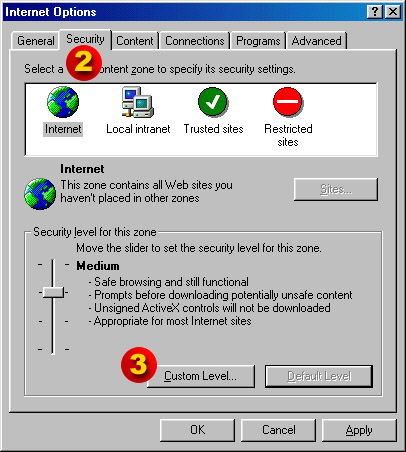 Select the Security tab in the dialog box [2], and then click the Custom Level [3] button to bring the next dialog box.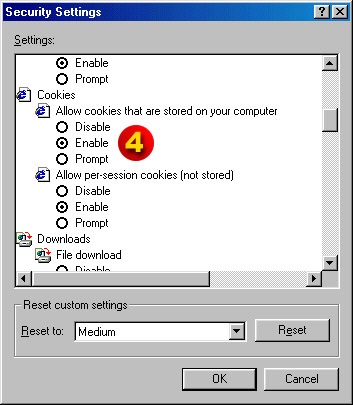 Once you have the Security Settings dialog box open, scroll down until you see the "cookies" setting. Change the cookie setting [4] to "Enable", then click OK and your browser is setup to accept cookies.